THE AYODHYA DISPUTE
Fact and fiction in the temple-mosque dispute
An illustrated account based on primary texts and archaeological finds at the so-called mosque at Rama Janmabhumi.
If you are interested only in an illustrated tour, click: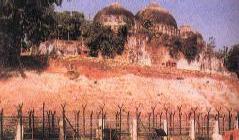 The disputed structure before demolition on December 6, 1992
© 2001
N.S. Rajaram
This is a non-commercial website. Copies may be made for educational and other non-commercial purposes only.